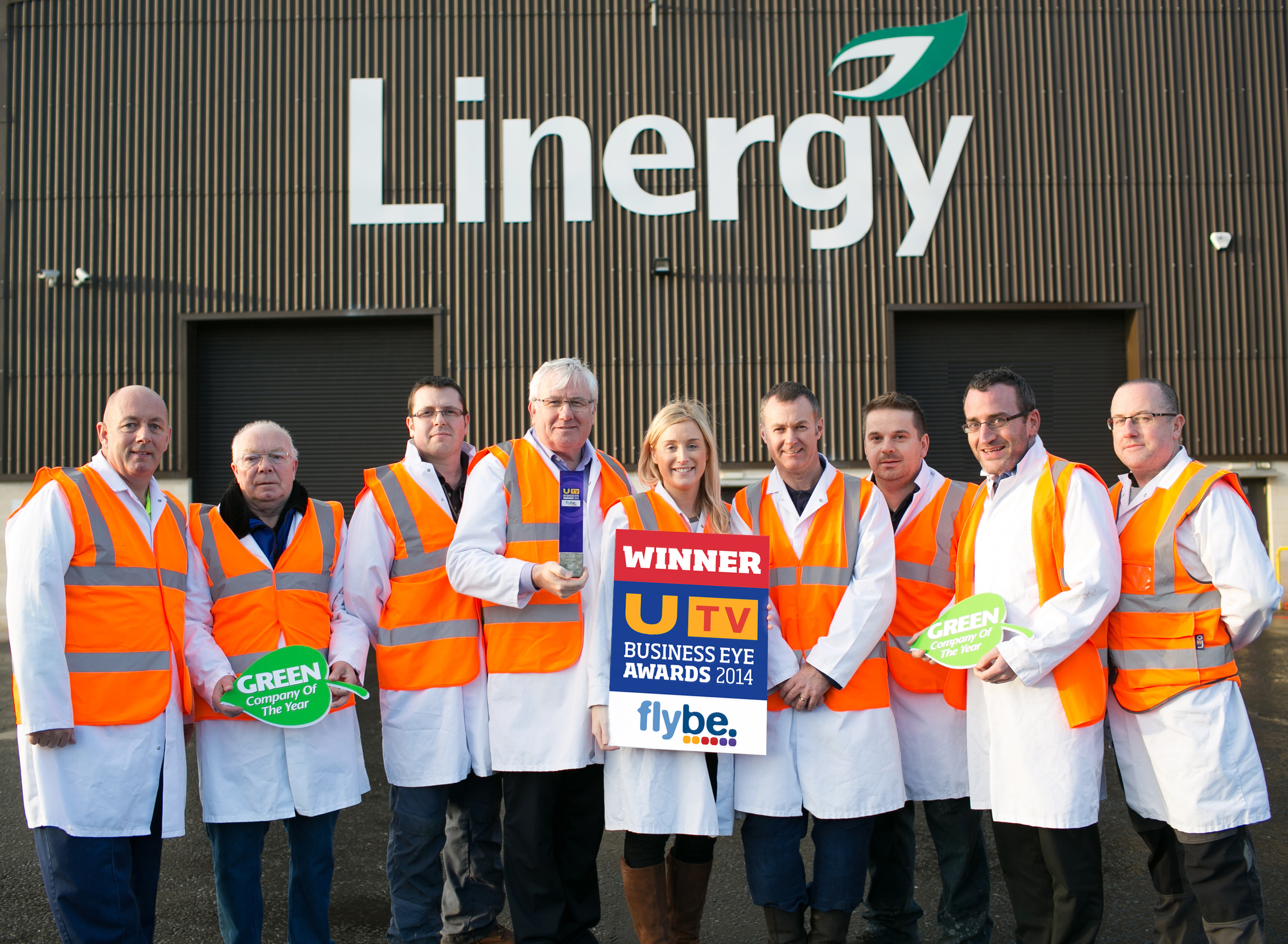 UTV Business Eye – GREEN Company of The Year
1 November 2014
Linergy the innovative renewable energy company has been awarded 'GREEN' Company Of The Year at the recent UTV Business Eye Awards beating off stiff competition in Graham Construction, Charles Hurst Group, Tayto and the Henderson Group.
Operating from Granville Industrial Estate in Dungannon, Linergy has been producing renewable fuels from organic waste and animal by-products since 2005. Several million pounds has been spent to establish the state of the art rendering plant in Co. Tyrone. The result of which is the production of two-renewable biomass fuels: Tallow oil and Meat & Bone meal.
The award winning company is leading the way with biosecurity and provides a hugely successful service for farmers to dispose of dead animals very quickly by bringing the carcasses to a dedicated area of the plant.
"Linergy was the clear choice of the judges in what was a very competitive category. What set them apart from the others shortlisted was both the innovative nature of the company, its recent global first Prosperity Agreement and the fact it ticked all the boxes when it came to environmental credentials." Said; Richard Buckley – Business Eye Editor
In August this year Environment Minister Mark H Durkan signed the world's first Prosperity Agreement with LINERGY and the Northern Ireland Environment Agency (NIEA).
It's an unusual partnership when competing companies collaborate to start a new business; but when faced with a radically changing operating environment rivalries quickly disappear. That was the situation for Linden Foods, Fane Valley and Dunbia; three significant players in the Northern Ireland agri-food industry, who joined forces to created Linergy.
Richard Moore, Managing Director – Linergy, commented: "It has been an exciting few months for Linergy, first with the signing of the Prosperity Agreement and now the winning of this prestigious award. We have a great team back at Linergy and great relationships with the rural community so it is especially pleasing when recognised at this level for GREEN Company of The Year and given the caliber of the others shortlisted, we feel very proud."
Phone to register your animal
Or Register Online
How the process works

Find out how